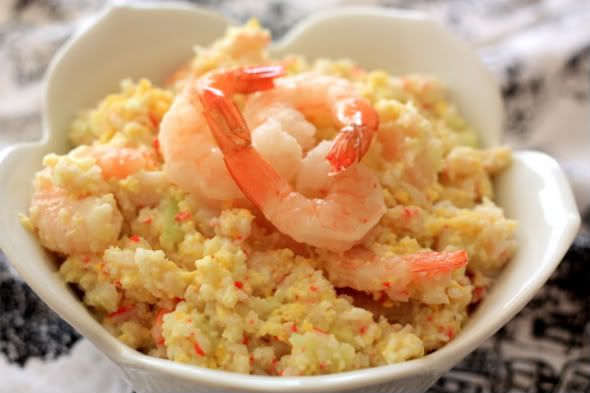 If you come to a Thanksgiving dinner at a Russian's house, you will be certain to find much more than turkey, mashed potatoes, stuffing and pumpkin pie there. Sure, those things will be present on the menu -- don't let anyone say that we did not faithfully adopt the customs of this holiday -- but any holiday for a Russian is a blank canvas upon which he or she can paint the feast of their desires. As a result, the cold and hot appetizer spread ("zakuski") is probably a full dinner in itself, after which you may or may not want a bit of turkey and stuffing (the men in the family usually end up on the "may" side of that equation).
There are many things you will almost always find at a zakuski table -- pirozhki (meat or cabbage pies), salad Olivier (the Russian version of potato salad), cold cuts and pickled vegetables, and also crab salad. Russians love crab salad. I don't know why, I don't know how, but it's one of those things that invariably finds its way onto the menu, and I am invariably disappointed in its taste. There are many different ways to make it, but usually it involves chunks of crab and cucumbers swimming in a mayo or buttermilk-based dressing. Um. Not my idea of a good time, I can tell you.
Once I tasted my mother in law's crab salad, however, all my crab salad dreams were answered. People, this is the best crab salad ever, and I am not prone to hyperbole here. Her secret is to use the food processor to do the chopping, which produces the tenderest little flakes of crab and egg, mixed with a little fresh, crunchy cucumber and larger, succulent shrimp.... as my dad says, it's a song. There is maybe 1 tablespoon of mayo in the whole thing because the cucumbers give off enough moisture to hold it together, and my MIL sprinkles the salad with a little masago (smelt fish roe) for crunch, and it's just... so, so good. No more chunks, no more dull flavors. Every ingredient shines. And best of all (besides the taste) is that it's the quickest dish in the world to make. If you have your ingredients ready, give yourself 5-10 minutes with the food processor and it's done. Bring a little Russian flavor to your holiday table this Thanksgiving!


Best Crab Salad Ever
(via my MIL)
makes a large bowl

1 lb crab meat, cooked
1 lb medium shrimp, cooked, peeled and tails off
6 eggs, hardboiled
6 small cucumbers (or one of the huge English cucumbers)
1-2 T mayonnaise
2-3 T masago (optional)

Put all your ingredients in prep bowls and make a large salad bowl ready.

Put the crab meat in the food processor and give it a few pulses until the crab is reduced to tiny flakes and no large pieces remain. Turn the crab out into the salad bowl.

Cut the hardboiled eggs in half and put into the bowl of the food processor, processing for a few seconds until the eggs too are reduced to small pieces and no large pieces remain. Turn out into a bowl next to the crab. I usually do this in two additions (so 3 eggs at a time), but if you have a larger food processor, you might be able to put all the eggs in there at once.

Chop the cucumbers very roughly and do the same thing with the food processor (a fwe pulses of 2/3 seconds each usually suffice). Watch out not to process too much so that the cucumbers don't become slush. Turn out into the salad bowl.

Remove the tails from the shrimp and turn them out into the bowl as well (reserving a few for decoration). Mix the lot with about a tablespoon of mayo. Add more mayo, salt and pepper to taste, making sure all the ingredients are distributed evenly. If you are using masago, mix in about 2 tablespoons with the rest of the ingredients. Arrange the left over shrimp on top decoratively (and if using masago, sprinkle with the left-over tablespoon of masago).