Last time I posted about cabbage rolls, it seems to have messed up the blog when viewed in IE, so let's try it again, hoping that technology will cooperate with me. Cabbage rolls is the quintessential Easter European/Russian/Jewish type of dish that, if you've never had it before, sounds kind of strange (cabbage? wrapped around meat and rice? weird...), but once you've tasted it, there's no going back. The silky tenderness of the cabbage wrapped around a succulent mixture of meat, rice, onions and spices and sauteed in tomatoes and more onions until the flavors dance and then topped with cool, tangy sour cream... It's a winner from all angles, especially on a cold, rainy night. To convince you further, I can add that the Greeks have something very similar called Dolmathes (grape leaves stuffed with meat and rice), and if the Greeks do anything right (and oh, they sure do), it's definitely food.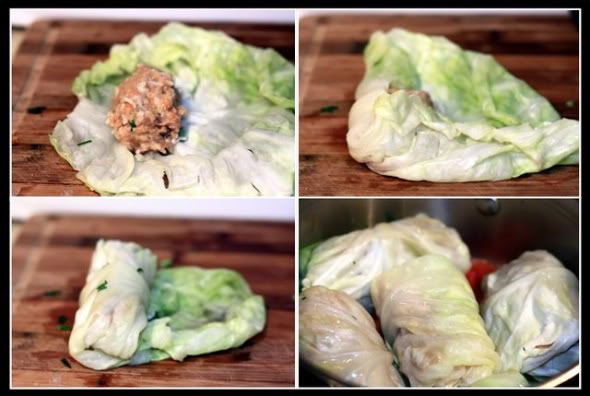 Cabbage Rolls (or Golubtsi, if you want to sparkle with your knowledge of Russian dishes)
recipe via my aunt

For the filling
1 head of cabbage
1.5 lb of ground meat (the best, as my aunt tells it is 1 lb beef and .5 lb of pork, but I used 1.5 lb of lean turkey and it was still pretty great)
1 cup cooked rice
1 onion
1 large carrot
2 T chopped parsley
1 egg
2 slices of stale bread
salt and pepper

For the broth
1 can chopped tomatoes, drained (or a few small tomatoes, chopped and seeds removed)
1 T tomato paste
2/3 cups water or chicken broth
1 onion
1 large carrot
2 T chopped parsley
salt and pepper
1 teaspoon dried thyme or oregano

sour cream for garnish and bread for soaking up the broth (this is the really important part, people, don't skip it)

Bring water to a boil in a medium-large, heavy bottomed pot (ideally, it should be a cast iron pot, but I don't have one and it all worked out well anyway). Separate as many large and medium leaves from the cabbage as you can by cutting around the stem and removing the leaves. It's ok if they rip a little. Submerge the leaves in boiling water and cook for 7-10 minutes or until soft. Drain water and take out the leaves.

Grate 1 onion and 1 carrot on a fine grater and chop the parsley. Cut the crust off of the bread slices and soak in a little bit of water until very soft. Squeeze out the water. Combine the ground meat, grated vegetables, parsley, egg, rice and bread and mix very well so that all the ingredients are distributed properly. My aunt does this with her hands, but I find that a large fork works for me. Season the mixture with salt and pepper and set aside.

Chop the other onion and grate the carrot on a large grater and saute in a skillet for a few minutes with a little olive oil until the carrot is soft and the onion is translucent. Add the 2/3 cup of water or chicken broth and tomato paste and stir. Then add the chopped tomatoes, parsley, thyme or oregano and season to your liking.

Pour half the mixture into the heavy bottomed pot and reserve the other half.

Now, wrap your cabbage rolls. Take one leaf of cabbage -- it should be soft enough to bend, but if the stem is a little tough still, use a meat tenderizer to help even it out. Grab a handful of the meat mixture and set it at the base of the leaf. Fold forward once, then fold both of the sides into the middle (like an envelope) and fold again. You can cut off the remainder of the leaf or just continue folding. Arrange the cabbage rolls in the pot so they fit snugly next to each other. You should have about 12-14 pieces.
Pour the rest of the broth on top. Cover and simmer on medium-low heat for 45 min to an hour or until the meat is fully cooked and the cabbage rolls take on a darker, golden hue from the tomatoes and the carrots. Garnish with sour cream and serve with dark bread. Excuse me while I go eat the last two before A. gets to them.